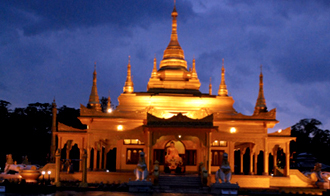 Tucked away in the remotest tip of northeast India is the enticingly beautiful state of Arunachal Pradesh. Literally meaning 'land of the dawn lit mountains' in Sanskrit, Arunachal with its captivating snow-capped peaks, silver lakes, gushing rivers, verdant landscapes and glorious heritage has become a prime destination for both Indian and international tourists. Bollywood too was spellbound by the beauty of the place and shot
Madhuri Dixit-starrer film Koyla in the breathtaking Tawang district.

In fact, it was in Tawang that the fifth Dalai Lama, Mera Lama, saw his vision to construct a monastery in 1681. It is said after praying for guidance, he found his horse standing quietly on a hilltop and took it as a divine sign. Hence the name Tawang, which means chosen by the horse.

Arunachal Pradesh attained complete statehood on 20th February 1987 as part of the Indian union. At 83743 sq. kms, the state shares a long international border with Bhutan to the west (160 km), China to the north (1,080 km) and Myanmar to the east (440 km). The McMohan Line separating the state from China has evolved into a major political issue, owing to China's claims of Arunachal being a part of their land. It is due to this unrest that entry into this exotic land is allowed after tight security clearances. Itanagar is the state capital of Arunachal.

Our ancient mythology however, has several mentions of the land of Arunachal in texts like the Mahabharata and Kalika Purana. Legend has it, that it was here that Parashuram washed away his sins; that sage Vyasa meditated in its serene milieu and that the Prabhu Mountains mentioned in the Puranas belongs to this region. The Parashuram-kund and the 400 year-old Tamang Monastery; and several other archaeological remains are testimony to this grand-old heritage of the land – just as are the several indigenous tribes of the state.

Arunachal is today home to over 20 major tribes and sub-tribes of Mongoloid origin – who can be further categorised according to their socio-religious affinities. Prominent groups among these are  -

The Monpas and Sherdukpens of Tawang and West Kameng districts  - known for their religious practises they are staunch followers of the lamaistic tradition of Mahayana Buddhism; and their villages usually have a series of richly decorated Buddhist 'gompas'. Though chiefly agriculturalists, a large number of these people breed mountain sheep and yak. Believed to have migrated from Thailand and Burma, centuries ago, they use a distinct ancient script, which has been sourced, to their original homelands.

The second major group of people are myriad tribes like Adis, Akas, Apatanis, Bangnis, Nishis, Mishmis, Mijis and Thongsas, who worship nature deities like Donyi-Polo, the Sun god and Abo-Tani, the Moon God  - also believed to be the original ancestors for most of these tribes.

Some distinct characteristics define each of these tribes – among the Adis for example polygamy is still common and their traditional dance, the 'ponung' is popular throughout the state. While, rich body tattoos, nose rings and hair buns are the distinguishing traits of the Apatanis. The Hrussus on the other hand, follow both Hindusim and Buddhism and are very good tradesmen selling swords, cloth and blankets. Mishmi women are known to produce excellent weaves, as well as coats and blouses. Among Membas and Khambas of west Siang, polyandry is very common; while Singphos, the expert blacksmiths believe in a host of spirits as well as in Buddhism.  The one common factor among all these tribes is their well-defined and exceptionally organised systems of self-governing village units.

The third group comprises of Noctes and Wanchos, who inhabit the Tirap area – their village societies follow a strict hierarchical system where the village chief plays a significant role. Noctes and Wanchos are believers of elementary Vaishnavism.

Being an agrarian society, a large number of festivals celebrating a good harvest are common during the months between September and March. Losar the New Year festival of Monpas lasts for almost 15 days; while Mishmis celebrate the Tamladu for protection of crops, animals and as a guard against natural calamities. Sangken, the annual ritual of bathing Lord Buddha is organised by the Khampti tribe. Animal sacrifices, rhythmic beats and dances, intricate and colourful costumes and lots of food and drinks are part and parcel of these festivals.

Arunachal is a nature's treasure trove – wild and exotic orchids laden throughout the state, abundance of bamboo and cane, lush meadows and tropical forests fill its every nook and cranny to profusion.  The best time to savour Arunachal's phenomenal landscapes as well as its salubrious climes is between September – April.

Bomdila a prominent hill-station fascinates tourists with its snow-capped peaks and apple orchards.  Its intricately designed local carpets are a must-buy, while places such as the Tipi orchid garden and Dirang are prime attractions located near Bomdilla. Accommodation in Bomdilla includes hotels like Circuit House, Tourist Lodge, Hotel La and Hotel Sweet.

Bomdila is also the only existing route through which one can reach the legendary Tawang monastery of the Mahayana sect. Inhabited by the Monpa tribe, the area of Tawang borders Tibet have some of the most exotic lakes in this part of the country – prominent among these are the Pankang Teng Tso and Sangetser lakes. Nearby the Sela Pass, offers some majestic views of the Himalayas as well as the verdant hills. The Circuit House, Inspection Bungalow, Hotel Nichu and Hotel Shangrila provide the best accommodations in this area.

For lovers of adventure tourism Arunachal provides some fine options. The Bomdila to Tawang stretch is popular with trekkers; which offers enough challenge through some craggy hilly terrains, while also offering fascinating views of waterfalls and forests.

River Rafting along Kameng (Seppa- Bhalukpung), Subansiri (Taliha- North of Daporijo), Siang (entire course) is also popular among rafters.

Wildlife in Arunachal is an altogether different experience. The famous Namdapada Wildlife Sanctuary, few kilometres from Miao, in Changlang district, provides an apt habitat for a great variety of species including the red panda, majestic gaur and musk deer, elephant, Himalayan black bear, takin, the wild goat peculiar to the Patkoi range, slow loris, binturong as well tigers. Largely inaccessible because of its varying altitudes, the best time to visit here is between October and April. The area offers many hotels and lodging facilities.

Arunachal's religious and archaeological wonders are strewn throughout the land. Parashuramkund (lohit district) and Akashi Ganga are prominent religious centres for Hindus. Sites like Malinithan, which is a temple in ruins at the foot of the Siang hills has unearthed a valuable history of ancient civilizations, religions and languages. Dedicated to Durga, there are several sculptures of gods of the Hindu pantheon including Nandi and Surya. Bhismaknagar in the Dibang valley is a symbol of ancient tribal and Aryan way of life.