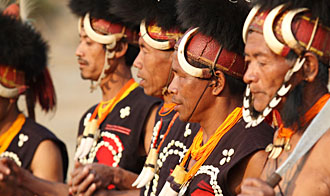 The vibrant hills of Nagaland are home to some of the most distinct tribes of India. This small state bordering Myanmar to the east became part of the Indian Union as its 16th state in 1963, after a long-standing fight for independence. The capital of the state is the bustling town of Kohima.
Covering a total area of 6401 sq miles, Nagaland's topography is defined by long stretches of rugged mountains, which arise from the Brahmaputra valley in Assam at a height of 2000 ft. Among its many peaks, the picturesque mount Saramati at an elevation of 12,552 feet is the highest – this is also the location where the Naga Hills merges with the Patkai Hills bordering Myanmar. Shrouded by dense clouds mostly, this region gets a very high amount of rainfall all year round.

Several waterfalls and rivers drain into the valleys surrounding the hills. Nagaland's rivers Doyang and Diphu to the north, the Barak river in the southwest and the Chindwin river of Burma in the southeast, crisscrosses through the entire length of the state. These rain-fed rivers provide enough water for this agricultural land which produces crops like rice, corn, pulses, potatoes, sugarcane and oilseeds. Approximately 90 per cent of Nagaland's populace is involved in agriculture.

By far the most striking feature of Nagaland is its tribes. Primarily belonging to the Indo-Mongoloid stock of people, each community is distinct from the other in terms of customs, culture and language. There are 16 major tribes who inhabit these regions – like Angami, Ao, Sema, Rengma, Sangtam, Chakasang, Konyak, Lotha and Moatsu among others. Fiercely loyal towards the clan and traditions, the Nagas originally had political and socio-economic links to tribes of Burma. They represent an egalitarian society where there is no system of caste or class. Young girls and boys have wide freedom of interaction before marriage, the only restriction being a strict ban on marrying within one's gotra or totem.

Customs related to agriculture and war are interwoven into the Naga cultural fabric – through most of their song and dance sequences Nagas try to propitiate the natural forces for a good harvest or for safeguard against any disaster or natural calamities. The festival season for each tribe is a time for joyous celebrations. And the Nagas loosen their purse strings during festival and ensure they have grand feasts. Hospitable by nature, Nagas take it upon themselves to entertain guests and visitors to their home to make sure at least they share a meal.

The Angami festival of SekrenyI in the month of February is an occasion to pray for the health and welfare of the whole community.

The Ao tribe observe Moastsu Mong for three days in the month of May after completing sowing.  'Sangpangtu' is one of the symbolic celebrations of this festival – on this occasion men and women sit around a bonfire.

Another festival of Aos is the Tsungrem Mong celebrated in the month August. During this festival village youths showcase their intellectual and physical prowess through various games and activities.

Festival of Chakhesang: This community celebrates seven festivals through the entire year – these are Suhkruhnye, the most important festival of this clan is held in January; NGUNYE – in February; Tsakronye – March; Tsukhanye – May; Khuthonye - July; Turhinye – August; Thurinye / Khiluvatu - December.

Changs observe six major festivals annually namely Poang Lem, Jeinyu Lem, Kudang Lem (by Haongang community), Moung Lem, Naknyu Lem and Monyu Lem.

Sankarni is the most important festival of Zemis, held sometime in February. During this week long festival alcohol is widely consumed by the tribe.

The Sumis celebrate a post harvest festival called AHUNA; and the TULUNI, another festival that is celebrated in mid July. On this occasion people drink the Tulini, a rice beer.

Traditional crafts of Nagaland is any shopper's delight. Passed down by several generations the tribal handloom, pottery, bamboo and cane artefacts, weaving and dyeing and woodcarving are considered formidable art forms of India.
Nagaland's striking beauty and serenity is a treat for the city-bred tourist. There are a great many must-see destinations within the state for travellers. These include -
Kiphire: This tourist hot spot has many attractions like Saramati Peak (the highest peak of Nagaland), the Fakim Wildlife Sanctuary, Cave at Salomi, Cave at Mimi and Sukhayap (Lover's Paradise),
Wawade Waterfalls, Twin Stones, Village of Siphi, Mikhi (the river of salt) and the historical destinations like Yingphi or Yingphire, rich in legends and traditions.
Longleng: Mokokchung, do check out these spots of interest Longkhum, caves of Fusen kei and Mongzu Ki, Longritzu Lenden and Tangkum Marok (springs), Ungma (oldest Ao village).
Peren: This village is steeped in traditions. The famous tourist attractions of the region are Benuru (still alive with traditional customs), and Mt. Pauna (the third highest peak of Nagaland).
Dimapur, is an industrialized belt of the state. The ancient capital of the kachari rulers, it derives its name from the Kachari words 'di' - meaning river, 'ma' - meaning great or big, and 'pur' - denoting city. Places to see in Dimapur include - Chumukedima (the first headquarters of the erstwhile Naga Hills District of Assam State in early 19th century), Ruzaphema (for its handicrafts), Triple Falls (a three tier waterfall), Governor's Camp (a great destination for picnickers, rafters, anglers and campers) and Itankagi Wildlife Sanctuary
Kohima, the capital city of Nagaland is home to Angami, Rengma, Kuki and Zeliang Naga tribes. It has religious monuments, museums and village attractions. Must visit places are The Cathedral of Reconciliation (a modern church), War Cemetery, State Museum, Zoological Park and the two beautiful villages of Bara Basti and Khonoma.
The Dzukou valley tucked away 30 kms south of Kohima is considered a paradise for nature lovers and trekkers.
Tourism in Nagaland is still in its formative years, so most of the accommodation available here belongs to the budget category.